Ducts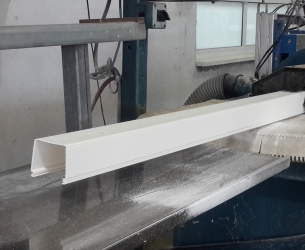 At the PALGAL factory exists a department dedicated to manufacturing ducts and profiles made of PVC and aluminum for cables and installation of communications and electrical fixtures. The ducts are manufactured to IS 1381 and in accordance with international standard IEC 1048-1.
The ducts are manufactured with an authorized marking of Standard 2121 of the Standards Institution of Israel. They are manufactured from rigid PVC, which is stabilized by environmentally friendly stabilizers that do not contain lead (Lead Free). The ducts are supplied in standard white but can also be produced in different colors, according to customer requirements. They are available in fixed lengths and are supplied in uniform cardboard containers. At the same time PALGAL specializes in manufacturing custom tailored ducts by utilizing special modular length.
Major Benefits
Manufactured from self-extinguishing material in accordance with IS 1381 part 1, and in accordance with International Standard JES 1084-1.
Resistant to moisture.
Chemically resistant to acids and bases at low concentrations as well as fuels and lubricants.
Can be installed within the temperature range: -30°C to 70°C.
Suitable for the installation of various auxiliary fixtures, including angles, corners, cable reinforcers, partitions, switching equipment and more.
Uniform and special cartons are supplied on reusable metal pallets.
Small ducts for self-installation
PALGAL manufactures small ducts for self-installation in private homes, offices, light industrial buildings and more. The small ducts facilitate the passage of electricity and communications cables. This is a unique product offering a clean and orderly finish that facilitates convenient installation, replacement and addition. PALGAL's small ducts are manufactured with a wide range of supplementary fixtures such as corners, splitters and more. These small ducts can be ordered with an adhesive strip on the back of the duct in order to affix them to the walls, and various other products of different types and sizes can also be ordered.