Galflex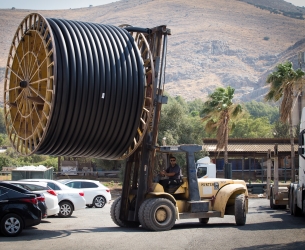 Galflex is a system of piping and fittings for the conveyance of network water, drinking water and wastewater. The piping is manufactured from PE-100, available in diameters of 32 - 315 mm (external diameter) and grades 6, 8, 10, 12.5 and 16. The piping is supplied in spirals, straight bars and on large drums.
Galflex is manufactured according to IS 4427, and is a system designed for various applications in industry and can be found in national water networks, municipal water networks, rural water networks, in sewage treatment plants, desalination facilities, agricultural irrigation systems, urban landscaping and more. Furthermore it is used for various applications of conveyance of chemicals, swimming pool piping and piping for marine uses.
Major Benefits
Completely resistant to solar radiation (UV).
Resistant to internal and external corrosion.
High chemical resistance to a variety of chemicals and materials.
Flexible with a low weight.
Does not accumulate scale and facilitates excellent conveyance of suspensions with low static losses for years.
High hydraulic conductivity (c = 150).
Can be easily installed, with flexibility and convenience in narrow and winding passageways.
Can be heat welded and facilitates easy and rapid connections to fittings using the plug-socket method, internal welding and electric welding.
The molecular structure does not release toxins and pollutants into the environment.