Galnur- FlameGuard®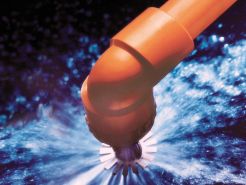 Galnur-FlameGuard® is a piping and fittings system for sprinkler fire extinguishment systems. The system is manufactured from from CPVC, which is a thermoplastic material and is ideal for its purpose with piping and fittings with diameters of ¾" – 3". Galnur-FlameGuard® piping is certified under Standard NFPA-13 and UL/FM and as such is also authorized by the Standards Institution of Israel for use, in accordance with IS 1596.
Piping is connected using adhesive. The Galnur-FlameGuard® system is intended for installation in sprinkler systems in low risk areas (Light Hazard) and residential, in concealed installation above a lowered ceiling or in a side cornice installed in the home, as well as open installation.
One important advantage of the system is the hydraulic friction coefficient (C = 150), which is significantly lower than in steel pipes. After the hydraulic calculation it is possible to save on piping diameters and to suggest a smaller diameter than that planned for metal piping. This saving will be expressed in reduced costs of material required for installation as a whole.
Major Benefits
Completely corrosion resistant in all weather conditions.
Light system weight and low shipping costs.
Simple and easy installation.
Minimal use of tools is required.
Low friction coefficient C = 150.
Rapid and simple installation saves time.
Made from self-extinguishing material.
Extended lifespan.