Galron 2000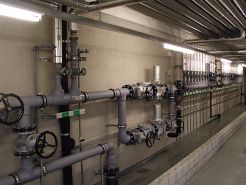 Galron 2000 is a system of Polybutylene piping and fittings. The system is intended for various plumbing and industrial applications, including network water supply to buildings, hot and cold drinking water supply, central heating, intertwined (heating and cooling) air-conditioning systems and under-floor heating.
Galron 2000 piping and fittings are manufactured from type 4237 Polybutylene and is available in diameters of 16 - 225 mm. The piping is installed in an open vertical and horizontal manner in shafts of hotels, hospitals, sheltered housing, public buildings, offices and more. It also can be installed buried underground with an insulation pipe. Galron 2000 is a system suitable for use in different processes in industry, as well as and hot wastewater systems both pumped and gravitational. PALGAL works in cooperation with the Swiss company George Fischer + GF +.
Major Benefits
Completely resistant to all phenomena of corrosion and scale accumulation.
Resistant at high service temperatures (100°C).
Resistance under high and continuous work pressures.
Low elastic modulus.
Extended service life (including under constant stress - pressure and temperature).
Easy and rapid installation.
Low system weight.